Education for Parents and Caregivers
Why Families Are Forever?
Families Are Forever™ (FAF) is an on-demand, interactive, educational platform designed to prepare families for foster care, kinship care and adoption and for the professionals who support them.  It also provides all courses to meet Hague Convention requirements for families adopting internationally.  FAF is the only online, on-demand training in the world authorized and endorsed by the Karyn Purvis Institute of Child Development (KPICD). Using Trust Based Relational Intervention® (TBRI®), FAF empowers caregivers and professionals globally with trauma-informed strategies and resources to become effective advocates and improve outcomes for children. 
While the journey can be challenging, Families are Forever is here to provide knowledge and support to make the road ahead a little easier. 
Foster Care  & Kinship Care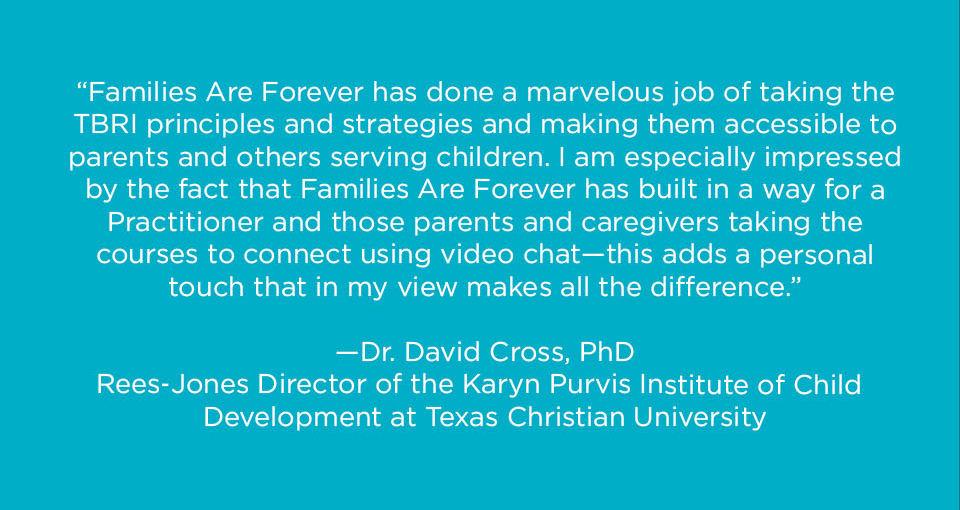 A Trauma-Informed Approach to Healing
The Power of Trust Based Relational Intervention®
Trust-Based Relational Intervention® is an attachment-based, trauma-informed intervention designed to meet the complex needs of children who have experienced adversity, early harm, toxic stress, and/or trauma. Because of their histories, it is often difficult for children with these experiences to trust the caring adults in their lives, which often results in perplexing behaviors. TBRI® offers practical tools for caregivers and professionals to see the "whole child" and help them reach their highest potential. 
TBRI® is rated by both the California Evidence-Based Clearinghouse (CEBC) and the Title IV-E Prevention Services Clearinghouse (PSC) for 'Promising' research evidence. You can learn more about the research supporting TBRI® at the KPICD website.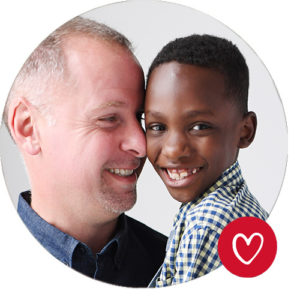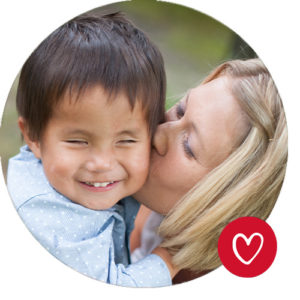 Learn More About TBRI®: FREE Course
Trust Based Relational Intervention (TBRI®) is at the heart of Families are Forever courses. In this FREE Introductory Course you'll discover the beginnings of TBRI®, the benefits of a trauma-informed approach, and how this knowledge can assist in the healing process for a child with a history of trauma.
"Families are Forever has taken essential elements of Trust Based Relational Intervention® and broken them down into digestible portions of vital information for parents. Then added the element of connection and support through their online platform. They have not only infused the training process with invaluable information, but they have made it easy for people to engage with their online platform and flexible responding, it's genius! Something I wish every adoptive family had access to."
Amanda Purvis
Training Specialist at the Karyn Purvis Institute of Child Development, Texas Christian University
How Our Educational Courses Work
Families Are Forever™ provides sequential and relevant training. After enrolling, each time you log in, your courses will continue from where you last left off. Following the completion of each course, you will receive your training completion certificate.
View Our Overview Video
We are honored to be a part of your journey. Our goal is to support and equip families and caregivers as they seek to bring hope and healing to children. Our passion is to educate, empower, and prepare you for the wonderful and challenging road ahead.